Ninghai Fengfan Mold & Molding Plant is an injection mold specialist in East China's Ningbo area, serving growing appliance, automotive and consumer item industries with very competitive priced quality product & service since 1993. The plant is only 3.5 hours away from Shanghai and easy accessible by land and air.
We operate on a land of 50,000 square feet with 24,000 square feet building as shop floor and office. In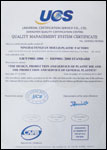 recent year, the plant introduced CAD/CAM/CAE technology in mold making with continuous efforts in upgrading machinery & equipment. Investment in our people and improvement in management system had contributed significantly to the growth in sales & the expansion in markets. The advantages of our company is low cost, fast to response, short to deliver and flexible to work with. These have made Fengfan one of the most reliable sources of the region for supplying injection molds and parts to overseas markets.
We are ISO certified with quality control system in place to meet the requirement from our customers home and abroad.
Fengfan is open to initiatives of business partnership with foreign businesses who share common interest in taking advantage of the growing Chinese mold making industry, and extends warm welcome to business visitor of the plant for exploring the business opportunities.